Antimicrobial Skin Closures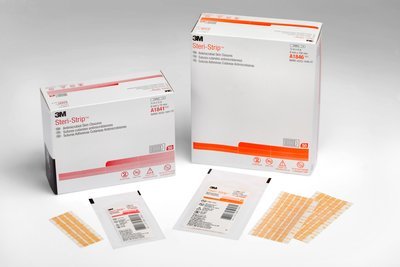 Antimicrobial Skin Closures
Product Description
To improve cosmetic outcomes and reduce risk of infections we have Antimicrobial Skin Closures. This product is used to protect injuries from bacterial and viral infections. The product is being tested under proper norms to make it safe and conscious for medical uses. It is majorly used in hospitals, nursing homes, during surgeries and so on. The bandage is easy on patients with comfortable and waterproof texture. It is available in different sizes as per the need of the patient. Our Antimicrobial Skin Closures is sterilized and packed properly to supply it without any sort of infection.

Helps reduces infection risk – Iodophor adhesive provides broad spectrum activity against the most common pathogens causing SSIs (Reference on file)
Helps improve cosmetic outcomes – Non-invasive, sterile design helps improve cosmetic outcomes, compared to sutures and staples, with less tissue trauma.
Stays in place – Excellent long-term adhesion, to ensure wounds stay closed while healing.
Easy on patients – Comfortable to wear. Hypoallergenic adhesive.
Size :
1 inch x 5 inch (25mm x 125mm), 1/2 inch x 4 inch (12mm x 100mm),
1/4 inch x
1-1/2 inch (6mm x 38mm), 1/4 inch x 3 inch (6mm x 75mm), 1/4 inch x
4 inch
(6mm x 100mm), 1/8 inch x 3 inch (3mm x 75mm)
Contact Us
HOBYAR MAH ASIR EFENDI CD EMIR HAN NO:14 K:2 D:204-205 SIRKECI EMINONU Istanbul Istanbul Turkey 90-212-+902125229387
Phone :+905053937245