Bioder Atocare Ultra Nourishing Body Lotion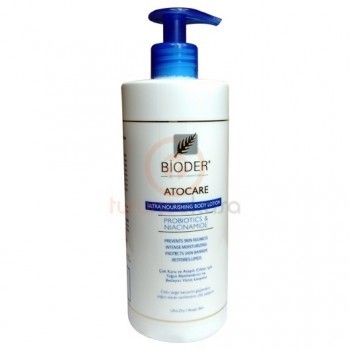 Bioder Atocare Ultra Nourishing Body Lotion
Product Description
With special attention on facial skin we also keep in mid other body parts. For this we have Bioder Atocare Ultra Nourishing Body Lotion that makes your skin of other parts healthier. This lotion is non greasy and helps in soothing the skin. The product is made up of high grade ingredients that are dermatologist tested. It restores the liveliness of the skin giving it deep nourishment. With fast absorbing formula it is also long lasting and has a pleasant fragrance. Our Bioder Atocare Ultra Nourishing Body Lotion is best for all types of skin like dry, normal and oily skin.

PLEASE CONTACT US FOR FURTHER DETAILS
EKINOKS MEDIKAL DIS TICARET LTD STI is one of Turkey's leading specialist
Worldwide medical suppliers.Ekinonks Medical established and registered in 2008. Our company sources and distributes, medical equipments supplies to healthcare professionals in over 40 countries. Also Ekinoks Medical applies to tenders.
Contact Us
HOBYAR MAH ASIR EFENDI CD EMIR HAN NO:14 K:2 D:204-205 SIRKECI EMINONU Istanbul Istanbul Turkey 90-212-+902125229387
Phone :+905053937245